Complete Story

04/22/2016
April President's Message
It has been quite a few days for the Chapter. On Saturday, April 16th, Ohio ACEP co-sponsored a Medical Student Symposium with EMRA for the second year in a row. We had over 100 medical students from as far away as Texas and Missouri attend lectures on getting into residency and participate in skill workshops. And a couple days later, Ohio ACEP held its Emergency Medicine Leadership Forum, an awesome two days of advocacy, education, and leadership on Capitol Square in Columbus.
So much happened at the Emergency Medicine Leadership Forum on Monday and Tuesday, I won't chronicle all of it. Elsewhere in this eNews please check out all the well-deserved award winners and results of the elections for Board and Councillors.
We began the EM Leadership Forum with an amazing evening with Dr. Ryan McGarry, creator of Code Black, the award-winning documentary that inspired the CBS medical drama of the same name. Ryan spoke about his journey through residency at LA County as chronicled in the film and provided some insight into what his experience has been working on the TV show. If you haven't seen the documentary, it's a must watch...and Ryan said it is now available on Netflix, so you have no excuse.
The other highlight for me was Tuesday morning when we hosted legislators and their staffers in the Statehouse for "Morning Rounds and Coffee Grounds." No, we didn't lecture them on upper GI bleeds and the various types of emesis. It was simply a way for legislators to meet our members and talk about issues affecting our patients and our practice throughout the State. It was an unbelievable success. Nearly 50 legislators and staffers joined us. I thought we were going to run out of coffee. One brief meeting will not change the state, but it's an essential first step and provides an opening and opportunity for future efforts.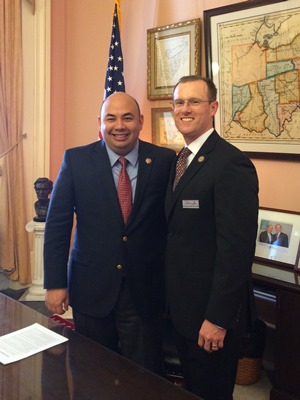 On a personal note, I was honored to attend a bill signing with the Speaker of the Ohio House of Representatives, Rep. Cliff Rosenberger. The legislation Speaker Rosenberger signed at the ceremony was House Concurrent Resolution 16, which Ohio ACEP was happy to support. Simply put, it encourages the U.S. Congress to remove pain-related questions from patient satisfaction surveys. All too often, we find ourselves torn between two competing interests: being good stewards of patient care by not providing opiates when not clinically indicated; and being concerned about getting dinged on surveys that value "satisfaction" over responsible clinical judgment. Removing this incentive to overprescribe is just one step towards improving the growing opiate problem in the state. I also want to extend a big thanks to Rep. Barbara Sears—who has worked with us on a number of bills—for inviting us to attend the ceremony.
Finally, don't forget about ACEP Leadership and Advocacy next month. Remember my President's Challenge from last year: to have more Ohio members attending than the Michigan ACEP Chapter. As it stands right now, we're getting smoked in registration. Get registered today!
Best,
Michael
Michael McCrea, MD, FACEP
President, Ohio ACEP
mmccrea@ohacep.org
---