Complete Story

12/16/2016
December President's Message
Last month I wrote about being thankful for being part of our Chapter. This month, I must in turn say "thank you" to a member of our chapter who serves as the leader of our most recognized and respected strategic pillars: Education. Last week, I made a mistake. My mom and Kindergarten teacher were right: "When you make a mistake, it's important to say you're sorry."
For many years, Dr. Ann Dietrich has served as the Chapter's Education Director and oversees our board review courses, Carol Rivers' products, EM Ultrasound, and LLSA Review courses. I took what Ann does for us for granted, and unfortunately it was only after the fact that I realized my error. Although I have already apologized to Ann personally, I felt it was appropriate and necessary in this month's message to publicly say "I'm sorry" and—more importantly—offer a well-deserved "thank you" for all that Ann does for our Chapter. Without our education courses and products, it would be impossible to do all that we do for our patients and our members.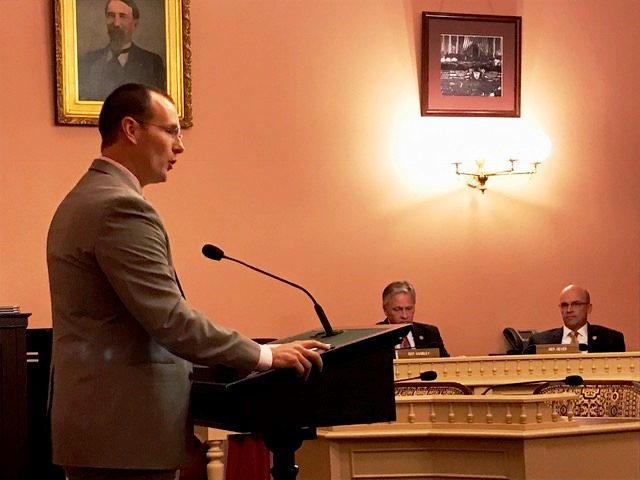 Although we are known most for our education, on this year's member survey, "advocacy" was again ranked by the members as Ohio ACEP's most important function. In this same vein, last week I was able to testify before the Ohio House Judiciary Committee on House Bill 559. Although this was only a preliminary hearing and the bill did not reach a vote this session, Ohio ACEP plans to help reintroduce the bill during the next General Assembly.
There are many parts to the bill as drafted by Rep. Robert Cupp. The two portions on which I testified were increased liability protection for emergency care provided during a disaster and extension of the current "I'm Sorry" statute. This would allow healthcare providers to not just express sympathy or condolence after an adverse medical event, but would allow a disclosure of error or fault that would be inadmissible against the physician in a liability case.
Opponent testimony from the trial attorneys was interesting to say the least. After my testimony, one attorney even called me "unethical" during his remarks. I certainly look forward to testifying again when the bill is reintroduced and formally responding to the Ohio Association for Justice.
Happy Holidays and here's to a great 2017!
Michael
Michael J. McCrea, MD, FACEP
President, Ohio ACEP
---