Complete Story

11/16/2012
Board Member Spotlight – Dr. Mike McCrea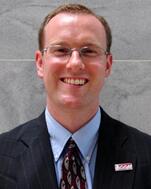 Dr. Michael McCrea's passion for teaching emergency medicine is evident in all aspects of his career. In 2009, he joined the Emergency Medicine Residency faculty at St. Vincent's in Toledo as Director of Simulation Education. Earlier this year, he became the program's Assistant Program Director and won the "Attending of the Year" Award from the program's residents.
He has also been extremely active with Ohio ACEP's educational programs. In addition to lecturing at the Emergency Medicine Board Review course, he serves as a faculty examiner and now co-director of the Oral Board Review Course.
Dr. McCrea has been an ACEP member since 2004 when he began his residency at The Ohio State University. After finishing residency in 2007, he joined a large community practice in Mansfield, Ohio, with Emergency Medicine Physicians, where he served as Quality Director. He continued to practice in Mansfield with Premier Health Care Services, serving as Assistant Medical Director.
Dr. McCrea has been actively involved in ACEP leadership, both nationally and in Ohio. For three years, he has represented the Ohio Chapter at ACEP Council and was selected to a Council Reference Committee earlier this year. He graduated from Ohio ACEP's Leadership Development Academy, and for the past two years, he has served on Ohio ACEP's Board of Directors, currently as Secretary of the Board.
Dr. McCrea and Pam, his wife of twelve years, have two kids—Mitchell, in 3rd grade, and Abby, in 1st grade. A diehard Buckeyes fan, he will continue a streak he started back in residency by going to watch Ohio State and Michigan square off at The Shoe on November 24.
---