Complete Story

12/20/2013
Board Member Spotlight—Dr. Tom Tallman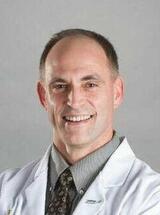 Navy-trained, board-certified emergency medicine physician, Dr. Tom Tallman has practiced for 27 years in community hospitals, large healthcare centers, training hospitals and military facilities ashore and at sea—the last 10 years at the Cleveland Clinic.
The son of third generation dairy farmers, Dr. Tallman is a western New York state native and a 1979 graduate of St. Bonaventure University. He completed Des Moines University College of Osteopathic Medicine and began active duty as a family practice intern at Jacksonville Naval Hospital in 1986. A year later he transitioned to the battleship USS Iowa (BB-61) where he served two years as medical division officer for a crew of 1500 men. Dr. Tallman completed Emergency Medicine Residency at San Diego Naval Hospital in 1992 and received board certification in 1993.
A life-long student and teacher, Dr. Tallman moved east to serve as Director of Military & Emergency Medicine at the Uniformed Services University of the Health Sciences (USUHS) training medical students in emergency medicine at Bethesda, Maryland. During this tour he worked clinically at several civilian hospitals in northern Virginia, including Fairfax Hospital, and was active with Navy Counter Narcotics Tactical Operations Medical Support (CONTOMS) in the National Capital region assisting U.S. Park Police, US Secret Service, FBI, and US Marshals. Upon release from Navy active duty in mid-1996, Dr. Tallman worked as a staff emergency physician at Prince William County Hospital in Manassas, Virginia.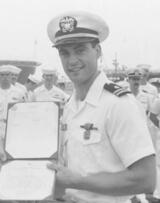 In 1998, Dr. Tallman moved to Ohio to take a position at University Hospitals of Cleveland where he served as Emergency Medicine Director of Education, attending staff and clinical professor for CWRU School of Medicine. Two years later Tallman moved to Hillcrest (Mayfield Heights) and South Point (Warrensville Heights) Hospitals, then to Cleveland Clinic Main Campus in 2003.
In addition to treating patients and teaching residents, Dr. Tallman served as Critical Response Committee chairman, leading all the Clinic's emergency rapid response teams from 2007 to 2011 and as EMS Director from 2007 to 2013. He continues to serve as Director for Physical Diagnosis and Clinical Skills to Cleveland Clinic Lerner College of Medicine's (CCLCM) YR1 and YR2 students and as Medical Director for both Cleveland Clinic Event Medicine and main campus Mobile Emergency Response Team (MERT).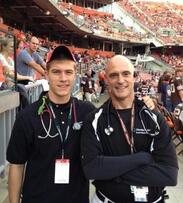 Dr. Tallman was named Medical Director of Emergency Preparedness & Disaster Medicine for the Cleveland Clinic Health System in August 2013. After chairing Cleveland Clinic's Disaster Preparedness Committee since 2007, Dr. Tallman, who trained as hospital incident commander and first responder at Department of Homeland Security's Center for Domestic Preparedness, is thrilled to provide greater focus and training to the medical-healthcare component of keeping the Cleveland Clinic prepared for disasters. Tallman is also certified in Radiation Emergency Medicine through the US Department of Energy's Oak Ridge Institute, and is designated a Healthcare Emergency Professional through the International Board of Certification of Safety Managers.
Dr. Tallman was first elected to Ohio ACEP board of directors in 2007. Since then he has co-chaired the Ohio ACEP's EMS and Disaster Preparedness Committee and served as Councillor. In addition, he is a member of national ACEP's EMS-Disaster Medicine section and an oral board examiner for the American Board of Emergency Medicine.
A spinal cord injury and cancer survivor, Dr. Tallman is deeply committed to improving patient-physician relationships. In addition to sharing his own patient experience through speaking engagements, he is a faculty facilitator for the Foundations in Healthcare Communication physicians' course at Cleveland Clinic Center for Excellence in Healthcare Communication, and a member of the Glickman Urological Institute's Patient Experience working group.
Dr. Tallman lives in Shaker Heights with his wife Tina, a retired US Navy officer. Daughter Allie is an Allegheny College graduate and Cleveland Clinic emergency department employee. Son Joshua is a junior at The Ohio State University, a Naval ROTC midshipman, and a certified EMT.
---