Complete Story

03/14/2014
March 2014 President's Message
Where Leadership & Advocacy Intersect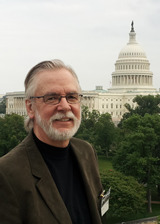 Leadership and Advocacy. They go together like ham and eggs, Penn and Teller, Page and Plant. So how appropriate that the most recent Ohio ACEP event was our two-day Emergency Medicine Leadership Forum, the perfect intersection of Leadership and Advocacy.

The event began with an exclusive screening of the fantastic EMRA documentary delving into the history of Emergency Medicine. The appropriately-titled "24|7|365" was very well-received by the many people in attendance. The highlight for many of us was the presence of two of the "stars" of the documentary, Dr. Bruce Janiak (the 1st Emergency Medicine resident in the country) and Dr. Pam Bensen (the first woman elected to the Board of Directors of ACEP). What a thrill to have these EM pioneers not just in attendance, but as participants in a post-movie panel!

The second day of the conference featured many wonderful speakers focusing on advocacy and a wide breadth of policy issues related to emergency care. We were blessed to have many experts on hand to participate as speakers, including three members of the Ohio House of Representatives, an Ohio Supreme Court Justice and the Director and Medical Director of Ohio Medicaid.

In addition to the EM pioneers I mentioned, we were also very fortunate to host many current Emergency Medicine leaders for the EM Leadership Forum. Not only did we have two current members of the National ACEP Board of Directors (Drs. Rebecca Parker and Jay Kaplan), we also had the current Speaker of ACEP Council (our own Dr. Kevin Klauer) and the President-Elect of National ACEP (Dr. Michael Gerardi). They were there not just as attendees, but as active participants, "giving back" to the residents and others in attendance. What a true honor to have hosted them.

Leadership is one of those malleable concepts that varies from person to person. We could probably all come up with a variety of tenets that comprise "leadership", and we all feel like we "know it when we see it". But no two people would describe it identically. So with that in mind, let me put forth a few of my own ideas of what constitutes leadership.

One aspect of leadership is behaving in a manner you wish others to emulate. Demonstrate by your behaviors how you would wish others to act. After all, leadership is not simply something you talk about; it is something you actually live and demonstrate.

Another important component of leadership is knowing one's strengths and, perhaps even more important, recognizing those areas in which you come up short. Having a sober understanding of these traits allows us to recognize when someone has the qualities to complement our weaknesses with their strengths, and vice versa.

Third, a good leader is true to their word, doing what they say they will do. I recently read an article referring to Dr. Seuss' classic title character, Horton, who "meant what he said and said what he meant" and was faithful 100 percent. To lead, you must gain the trust of those you are leading. And one very simple way of gaining trust is to do what you say you will do. Talk is cheap, action speaks volume.

Another tenet of great leadership was once summed up perfectly by Rosalyn Carter: "A great leader takes people where they don't necessarily want to go, but where they ought to be". Well put. I couldn't agree more.

It's amazing what an event like the EM Leadership Forum can do to restore one's commitment to, and appreciation for, effective leadership. On behalf of Ohio ACEP's Board and staff, I thank everyone who turned out to experience this memorable conference.
---