Complete Story

06/20/2014
June President's Message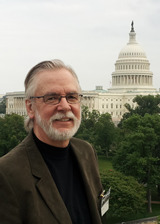 I am writing this with an ear-to-ear smile for a reason that most of you will already know by the time you read this. Dr. Steve Stack, a graduate of both the Ohio State University School of Medicine and Emergency Medicine Residency, was just elected to serve as the President of the American Medical Association. What a fantastic honor for Steve, and what a wonderful tribute to Emergency Medicine. But most importantly, what a powerful and enlightened step forward for the House of Medicine. We are lucky to have Steve in the ranks of our specialty, but our luck pales in comparison to how fortunate the House of Medicine is to have Steve serving as President. Steve, we are oh-so-proud of you. And a collective Chapter hug to you and your wonderful family.
Two thought-provoking articles in June's Emergency Physicians Monthly, authored by two of the gray beards of our specialty. The first is Rick Bukata's article with its thoughtful insights into why ACEP may want to consider (again) allowing non-boarded Emergency Physicians to join the ranks of ACEP. An interesting and stimulating read, and this idea will again move to the front burner, me thinks. The irony for me is that I had just completed reading my AAEM Common Sense, with articles/editorials taking the diametrically opposed point of view.
Greg Henry also provided food for thought with his article on involvement and leadership (spoiler alert… you can read this whole piece without having to employ Google's Latin to English translator). Dr. Henry poses a series of questions we should be asking our soon-to-be leaders and also makes the incredibly important point: "…without aggressive headlong involvement of the young, we will not be able to maintain our position and move ahead."
At my Rotary group in Dayton, the delivery of the Invocation is rotated among the members. I was asked to deliver the Invocation on June 2, and I decided a Maya Angelou theme would be appropriate as she had passed on during the previous week. In researching for my delivery I made a couple interesting discoveries. First, one of my favorite quotes ever is the following: "I've learned that people will forget what you said, people will forget what you did, but people will never forget how you made them feel." What I didn't know was that this comes from Maya Angelou. So that was pretty cool. Then comes the second discovery, that is, the name of her autobiography, I Know Why the Caged Bird Sings, comes from a line in a Paul Laurence Dunbar poem!
Paul Laurence Dunbar is a native of my city, Dayton. He was friends with the Wright Brothers (One wag asked if I also was friends with the Wright Brothers as he thought we might be contemporaries!) and attended high school with one of them (I forget which). Unbelievably, given his accomplishments, he died at the age of 34! I am continually amazed by the youthful passing of some of society's greatest influencers and contributors.
Let me close with this. Do yourself a favor and get a copy of Dunbar's Sympathy, find a secluded place, and read this incredible piece of poetry.
As always, I welcome your comments or concerns. Please feel free to contact me through the Chapter offices.

Hi ho from Philadelphia,
John
---