Complete Story

06/20/2014
EM Residency Spotlight—Akron General Medical Center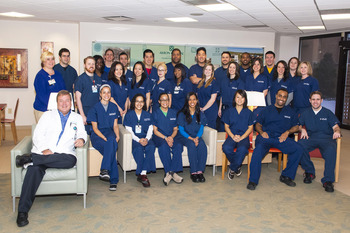 The Emergency Medicine residency program at Akron General Medical Center is a community-based, University-affiliated training program with a strong emphasis on academics. We recently celebrated our 40th Anniversary as a residency. Our Chair, Dr. Nick Jouriles, is a previous president of national ACEP. The residency director, Dr. Mike Beeson, is a previous president of CORD and is on the Board of Directors for the American Board of Emergency Medicine. One of our faculty, Dr. Carol Cunningham, is the state of Ohio EMS Director. Our faculty has received various awards and recognition in the last year, including the SAEM Hal Jayne Award and the Ohio EM Physician of the Year by Ohio ACEP. Our residents are mentored by these faculty.
Our program is centered in a busy downtown urban Emergency Department and three Freestanding EDs, totaling 110,000 patients per year. We are a Level I Trauma Center, and also accredited as a Stroke Center and Chest Pain Center. Our residents rotate at two Freestanding EDs, seeing pediatric patients at one. We supplement our pediatric experience with additional months in the ED and Pediatrics ICU at Akron Children's Hospital.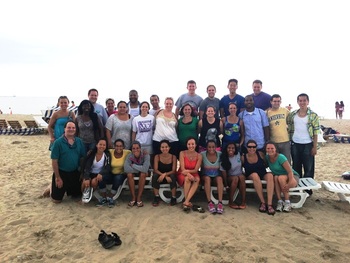 Our program has created many innovative advances in medical education. Our interns work 18 clinical shifts a month, and have three protected academic shifts in which they can catch up on their reading, take online tests (pioneered by the program director), practice ultrasounds, or do task training in our Simulation Learning Center. This allows the interns to build a strong foundation of medical knowledge as they learn clinical emergency medicine.
Our program has a strong emphasis on academics. Every year one or more graduating residents will go on to do a Fellowship. Our list of publications and presentations in just the last two years is impressive. Our residency takes pride in working with individual residents to support them in their pursuit of their professional goals.
The greatest strength of the program is the camaraderie of the residents and attending staff. Both are diverse, representing residencies and medical schools across the country. There are many venues for team building including our annual day at Cedar Point, as well as protected time for Journal Clubs.
We at Ohio ACEP thank Akron General for sharing this information with our members!
---