Complete Story

07/18/2014
July President's Message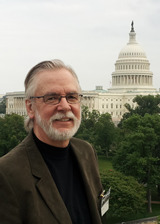 Ah, July…that time of the year again. Those of us working in a hospital setting are again reminded that "July is not the month to get sick and be hospitalized"; because this is the time when the newly-minted physicians begin their residencies. I should know whether this actually true (i.e., do more errors and calamitous events really occur in July/August?)…but I don't. Yet it does make for good water cooler fodder, and my guess is this sentiment will live on whether true or not.
This first residency year truly is a momentous time; one most of us who have survived the year will remember as "their coming of age." This is the time when we truly accept (hopefully willfully) the responsibility of being a physician. It's an awesome duty…with rewards and disappointments every bit as awesome.
You may be wondering why I'm waxing nostalgic. The primary reason is that I'm putting together a talk for an incoming class of medical students. And so I'm necessarily reflecting back on my own years in medicine. While looking back on this formative time, the sentinel events come rushing to the fore: the first day of medical school, match day, graduation…and the first day of being a real doctor with "M.D." behind my name.
I actually attend commencements and graduations as often as my schedule will allow. A mantra of mine is that every licensed physician should be required to attend a white coat ceremony and/or a graduation every so many years (5?). I'd even allow substitution of a Match Day for one of those other events. The point is there is something so thrilling and touching to share those moments with both the incoming medical students and the graduating medical students…you're right back there with the excitement, anxiety, anticipation, fears, and so on. It almost inevitably takes you back to why you entered this most wonderful of professions. If you've not participated in one of these ceremonies recently, make an effort to go to one. My guess is you'll be delightfully surprised.
Changing gears…a big disappointment these past few weeks was the changing of the law pertaining to clearance of young athletes to return to the field of play after a concussion. We had a fine law on the books, looked upon by other states as the "standard." But a group of non-physicians managed to get this law changed. The disappointment is really two-pronged. First, I think it's a step backwards in the care of our youth to have non-physicians (e.g., chiropractors) independently certify post-concussive athletes as able to return to the field of play. The second aspect of this that was so disappointing was how it was done, i.e., by inserting this change in law into a budget bill (yep, I said "budget bill"), thereby escaping closer scrutiny during the committee process and avoiding the Governor's line item veto authority.
I'm off to California for a few weeks. Taking a train out, returning via the unfriendly skies. I'm arriving back just in time for our reconfigured Ohio Emergency Medicine Residents' Assembly. This is going to be a great day…wonderful speakers, a not-to-be-missed panel discussion on life after residency, and the opportunity to network with friends and colleagues. The planning committee has put together a day lending itself to fun, learning, and networking. It's never too late to register, so if you're not already signed up there's still plenty of opportunity. And I'll look forward to seeing you there.
Best,
John
John Lyman, MD, FACEP
President, Ohio ACEP
---