Complete Story

08/19/2014
EM Residency Spotlight—Grandview Emergency Medicine Residency

The Grandview Emergency Medicine Residency, based in Dayton, strives to produce outstanding, competent physicians who are well-rounded in clinical practice, academic achievements, and service to their community. The residents' clinical skills benefit from their active involvement in an emergency department that sees a large and diverse patient population. Under the leadership of Program Director, Dr. Michael Pallaci, Grandview EM Residency fosters the academic and clinical development of residents through mentoring by EM faculty.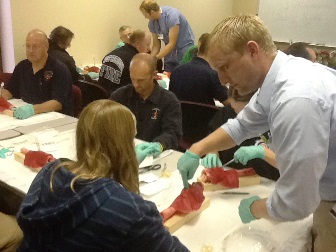 Great things are happening at Grandview Emergency Medicine Residency program! Students and faculty are being recognized for outstanding teaching, research, and many other achievements, both in and out of the ED. Here are a few of their recent accomplishments:

Jessica Hilst, DO (2-year Chief Resident)
Presented with the 2014 OUHCOM Crystal Apple Leadership Award
FEMA, Department of Homeland Security Disaster Medicine and HIT and HERT (Hospital Emergency Response Team) certification expected August 2015
Current NYIT (New York Institute of Technology) TIPS (Training in Policy Studies) Health Policy Fellow
Just finished terms as Chair of Grandview's DME Cabinet and Grandview's Resident Advisory Committee
Affiliate Liaison, American Osteopathic Association (AOA) Council of Interns and Residents

Robert Hunter, DO, FACOFP, FACOEP (Core Faculty, OMT Director)
Just completed his term as Ohio Osteopathic Association (OOA) President
Presented at the 2014 American College of Osteopathic Emergency Physicians (ACOEP) Scientific Assembly in Las Vegas
Served as Ohio's representative at the American Osteopathic Association's House of Delegates meeting and spoke on the floor during a debate on approval of a motion for single accreditation system

Chris McIntosh, DO (Class of 2013)
Just completed his first year of a 2-year EmCare Administrative Fellowship
Was named Emergency Medicine Faculty Teacher of the Year for Academic Year 2013-2014

Michael Pallaci, DO, FACEP (Program Director)
Named as faculty for the Centers for Osteopathic Research and Education's (CORE) Residency Director Fellowship Program (RDFP)
Named to EmCare's Speakers Bureau
Presented on Hypertensive Emergencies and Hypertensive Non-Emergencies at the 2013 ACOEP Scientific Assembly in San Diego
Presented at the 2014 ACOEP Scientific Assembly in Las Vegas for Student Section
Earned his certification as an ATLS instructor
Current Vice-Chair of CORE Residency Program Advisory Committee for Emergency Medicine

Sarah Simpson, DO (OUHCOM Class of 2014)
Chosen as co-Chief of Grandview's Intern Class and as Intern Representative to the Resident Advisory Committee
In addition, multiple residents and attending physicians lectured and participated in a skills lab for a recent EMS Educational Conference (see photo from cric lab), and multiple residents will be teaching at the ACOEP Regional Medical Student Conference in Columbus, February 2015.
We at Ohio ACEP thank Grandview Emergency Medicine Residency for sharing this information with our members!
---