Complete Story

11/14/2014
It was My Honor (Flight)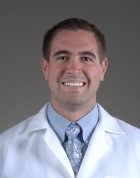 By guest contributor, Dr. Matthew Womack, EM resident at the University of Toledo
Both of my late grandfathers served in the United States Army. One was a paratrooper that broke his back after a parachute malfunction during WWII, and the other was in the infantry during the Korean War. I did not have the privilege of hearing any stories about their experiences. As I have grown older I have always regretted not inquiring more about what life was like during their time in the service.
Earlier this year I was approached by my Associate Program Director and was chosen to participate in the Honor Flight Northwest Ohio as a Medical Director. I had no idea what that meant or what the program was. Honor Flight was established in 2005 as a non-profit organization whose purpose was to send all WWII Veterans to Washington, DC to see the war memorials constructed to honor them and their service. As time has passed they expanded their services to take Korean War Veterans as well. Thinking of my grandfathers, it was an absolute honor to be chosen for this trip to ensure that men and women that served alongside them had the opportunity to visit their memorials. Since its start, this program has taken nearly 81,000 Veterans to Washington, DC. The Northwest Ohio section was started in 2007 and has made 35 flights taking 1,872 Veterans.
From a medical standpoint this program was a well-oiled machine that went above and beyond when it came to ensuring the safety of the Veterans. As one of the Medical Directors for the flight, truth be told, there wasn't a whole lot for me to do. The program had all of its precautions and protocols already in place. As an EM Resident I was there in case of an emergency. However, as part of my role, I was also a "guardian" for a Veteran during the trip. The Veteran I was responsible for was an 83-year-old gentleman who served in the Korean War. Aside from overseeing any unforeseen medical issues, my job was to make sure my Veteran had the once-in-a-lifetime opportunity he deserved.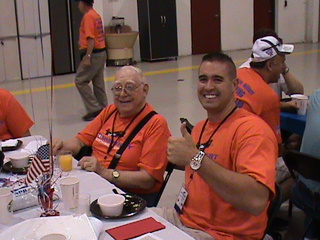 I met my Veteran and his wife over breakfast before we left for the day. From the start they were grateful that I was volunteering my time. I promised his wife that I would take good care of him and we were off. Honor Flight arranged a grand send-off including a line of photographers, flag bearers, and water cannons shooting over the chartered 737 prior to take off. It was a quick flight to Washington-Dulles Airport where we were met with a line of people seemingly all the way through the airport cheering, waving flags, and thanking and hugging each veteran individually. It brought tears to my Veteran's eyes, and was one of the most touching moments of my life.
After we were loaded onto our buses, we were transported to the memorial mall. After lunch, we set off to explore. Even though he did not serve in WWII, my Veteran was so proud to have his picture taken by the "Ohio" pillar in the WWII monument. As I pushed him through the mall we laughed and made jokes and enjoyed the breeze in the 95 degree heat. Our next monument was the Korean War Monument. He quickly quieted down as we approached the back side of the monument. Once we were at the backside of the monument I asked him what he thought. He went on to tell me about the mountains and jungles he experienced in Korea. He shared that he worked in the motor pool and began to open up about what being involved in the war was like for him. Some of the statues in the monument carried rifles, and he was able to tell me about each one. I could not help but notice him start to smile as he continued to tell his story.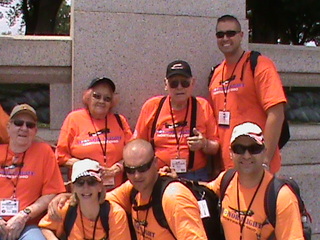 Several photographs later we pulled up several of the veterans into the shade around the monument to take a break from the sun. All of them sat and smiled as they looked over the monument. We pointed out the inscriptions to them, made sure they were staying well-hydrated in the heat, and enjoyed an ice cream together. We passed the Lincoln Memorial and admired the Washington Monument in the Reflecting Pool. My Veteran wanted to see the Vietnam Memorial so we strolled the length of it on our way back to the bus. Everyone was reloaded onto the buses and we went to Arlington Cemetery and the Tomb of the Unknown Soldier for the changing of the guard. He absolutely loved the ceremony. On our way back to the airport from the cemetery we received a "Presidential Escort" from the local police and did not have to stop at a light or a stop sign for the 35-minute ride back. My Veteran said it made him feel like a movie star.
It was another short flight back home. As we got off the plane I wheeled my veteran down a red carpet and into the hangar where more than 600 people were awaiting our arrival. A band was playing in the background as my veteran was welcomed home like the hero that he is. We made our way through the crowd after stopping for dozens of hellos, pictures, and handshakes. I'm 6'6" so his wife had no trouble tracking us down and welcomed us both home with a kiss on the cheek. He immediately started to talk of our day. I was showing her some of the photos I had taken over the course of the day when I was pulled away for a medical emergency. It was a rushed goodbye filled with hugs from him, his wife, and several of his friends.
This is the last year that Honor Flight Northwest Ohio will be organizing flights for veterans. It's not due to a lack of donations, lack of volunteers, or lack of desire to provide the experience for these Veterans. They are running out of Veterans. Father Time is certainly playing a role, but it speaks to the accomplishment of this amazing organization. It was an honor and a privilege to be able to contribute to that day for my Veteran. I choose to believe that my grandfathers were with me every step of that day. It was a day that I imagined would be about a need for a medical provider, but turned out to be a day that I will never forget for many other sentimental reasons.
Matthew Womack, MD
PGY-3
University of Toledo Emergency Medicine Program
Ohio ACEP thanks Dr. Matthew Womack for allowing us to share his story with our readers for Veterans Day!
---