Complete Story

11/14/2014
November President's Message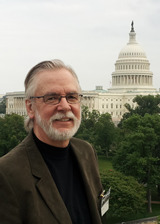 With ACEP14 in Chicago in the rearview mirror, we can now start thinking about Boston, the site of next year's ACEP Scientific Assembly (ACEP15). But as Boston is a whole year off, it's hard to seriously consider what may happen. But it does give us something to look forward to…Boston being a truly enticing and visitor-friendly city (as was Chicago).
As you know, ACEP's Scientific Assembly (known this year as ACEP14), always follows the ACEP Council Meeting, where the "business" of the College gets done. There was nothing earth-shattering in terms of new resolutions being passed (or not). There were some revisions in membership categories, as well as lots of resolutions pertaining to opiates and reversal agents being distributed OTC. There were heated discussions about "free speech", i.e., what is and what isn't allowed in campaigning advertising. But probably the most newsworthy event of the weekend was seeing our beloved Speaker of the Council, Ohio's own Dr. Kevin Klauer, with a fresh haircut! He looked like a kid going off to college.
The Council meeting saw Dr. Michael Gerardi assume the mantle of ACEP President. Michael has visited the Ohio ACEP Chapter more than once, and has been very supportive of our Chapter. He has big shoes to fill, following Alex Rosenau's excellent year—but no doubt he can do it.
The Council saw fit to elect Jay Kaplan to the President-Elect role. Jay is Harvard-trained…but California-refined and cultured, which brings a smile to the face of this University of California alum. Jay's two opponents have been long standing leaders in the college, and would have been excellent choices as well. We will be well-served to see them continue in leadership roles.
By the way, Jay gave a wonderful presentation on physician wellness, "Physician, Heal Thyself: The Importance of Creating Resilience," as this year's Mills Lecture. The presentation is now available—free for ACEP members!—on ACEP's eCME website, and is eligible for CME credit.
The Board of Directors had four seats to fill, and did so with two newcomers and two incumbents. As with the Presidential elections, the Board elections are a double-edged sword. On the one hand, how wonderful it is to have six outstanding leaders vying for Board seats. On the flip side, it's a disappointment that two of them will not be able to serve in this capacity.
As a personal observation, perhaps the biggest disappointment of the election process is that leadership structure of our College so inadequately reflects our society and more specifically, the field of emergency medicine. We have but two females on the Board, and no underrepresented minorities. I'm not pointing fingers, nor offering solutions. But I strongly believe this is a recipe for disaster if not addressed and remedied in timely fashion.
ACEP14 itself was a huge success, with record attendance, outstanding educational opportunities (with many Ohio ACEP-ers serving as educators), an exhibit hall packed to the gills with exhibits and exhibitors (including our own Ohio ACEP booth), and too-numerous-to-count parties and extracurricular events. Underlying all of this was the social patina of the Assembly—reestablishing old friendships while meeting many new acquaintances. Food and drink aplenty, it was a week that saw brain cells lost and pounds gained.
If you've not been to an ACEP Council Meeting/Scientific Assembly, you're missing a wonderful opportunity. The Council meetings themselves are excellent educational opportunities, and are open to all members of the College (you don't have to be a Councillor to attend). As alluded to above, the educational opportunities afforded by the Scientific Assembly are par excellence. The social opportunities during the week of the Assembly are indescribable. Mark your calendar for ACEP15 in Boston next October, 26-29. Join us as part of the Ohio delegation. You won't be sorry.
---