Complete Story

03/13/2014
Ohio ACEP Member Successfully Promotes Naloxone Bill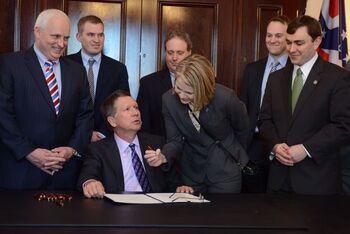 Columbus, OH—On Tuesday, March 11, Ohio ACEP member Dr. Joan Papp was on hand as Gov. John Kasich signed into law House Bill 170, which expands the list of licensed health professionals, emergency responders or peace officers who may prescribe or administer the drug naloxone. Commonly known under brand name Narcan, naloxone is an opioid antagonist used to counter the effects of an opioid overdose.
Dr. Papp, who has been a vocal advocate for expanded access to naloxone and was an early supporter of HB 170, is also Medical Director of Project DAWN (Deaths Avoided With Naloxone) an opioid overdose education and naloxone distribution program.
According to a CDC Publication, between 1996 and June 2010, over 53,000 participants have been trained in the use of naloxone by programs like Project DAWN. During that same time period, these programs have received reports of 10,171 overdose reversals using naloxone.
HB 170 also allows for certain health professionals to provide nasal naloxone to any person, family member, or friend of a person who is at risk of experiencing an opioid-related overdose. Persons who are now permitted to prescribe, provide or administer naloxone, if acting in good faith and with reasonable care, are granted immunity from drug offenses, criminal prosecution, civil liability or professional disciplinary action.
HB 170 was passed by both the Ohio House of Representatives and the Ohio Senate unanimously. The bill goes into effect immediately.
For more on naloxone, check out the video of Dr. Papp explaining the drug's effects.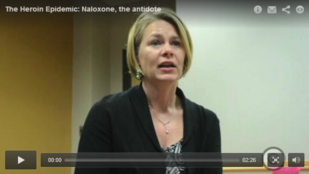 ---