Complete Story

08/02/2019
Surprise Billing Update: Victory for EM Physicians and Patients!
Gov. DeWine stands up for quality care, vetoes harmful surprise billing provisions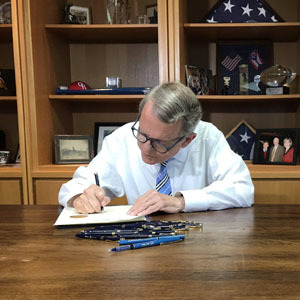 Ohio ACEP is thrilled to report that, thanks in part to the tireless work of our Chapter leadership and lobbyist, Governor Mike DeWine has vetoed the harmful surprise billing provisions in the state budget bill passed by the Ohio General Assembly in July. Ohio ACEP requested the line-item veto in a letter sent to the Governor, and we appreciate his willingness to put patients and physicians before insurers' profit margins.
The surprise billing provisions vetoed by Governor DeWine would have left all reimbursement decisions in the hands of insurance companies and would have dealt a devastating blow to Ohio's emergency medicine safety net.
Though the harmful provisions have been stricken from the budget, the fight isn't over! We will continue to advocate for a real legislative solution to surprise billing that truly protects patients, keeps them out of the middle of billing disputes, and incentivizes fair reimbursement from insurers.
Thanks to all our members who contacted their state legislators to demand they reject harmful surprise billing provisions. And a big thanks as well to Governor DeWine! We applaud him for standing up for quality care and reasonable healthcare policy!
---