Complete Story

08/02/2019
Budget Bill Passes with Some 'Wins' for Ohio Physicians
Final version of budget includes generally positive revisions on freestanding emergency department signage, Medicaid patients, and telemedicine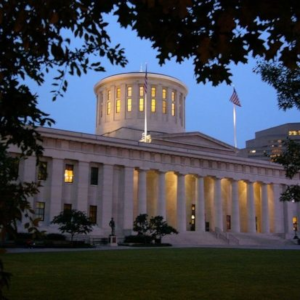 After missed deadlines, stalled negotiations, a stopgap budget, and no shortage of drama, the General Assembly arrived at an 11th hour deal on a two-year budget bill to send to Governor Mike DeWine. The biennial budget was quickly signed into law by the Governor on July 18.
In addition to a major victory on the issue of surprise/out-of-network billing (see previous article), the final budget included generally positive developments for Ohio emergency physicians on issues like freestanding emergency department signage, Medicaid patient use of emergency departments, and telemedicine parity.
Freestanding Emergency Department Signage
Earlier iterations of the budget bill contained a concerning proposal requiring freestanding emergency departments to include signage separate from what is required in hospital-attached emergency departments. The provisions would have required freestanding emergency departments to display a notice specifying:
The facility is a freestanding emergency department;
The facility or a healthcare provider at the facility might not be part of the provider network of the patient's health benefit plan;
A healthcare provider at the facility may charge separately from the facility for care provided to the patient;
A list of each health benefit plan for which the facility is a participating provider
Ohio ACEP was concerned that signs like this could discourage patients from seeking emergency care. And since freestanding emergency departments are full-service emergency departments—not urgent care centers—signs like these would likely be a violation of EMTALA.
Though the freestanding emergency department signage provisions were not stricken entirely from the final budget, they were significantly improved. The language signed into law simply requires freestanding emergency departments to identify themselves as such a facility, either through a notice posted or made available at the facility or on its website.
Emergency Care for Medicaid Patients
Another portion of draft budget proposals that were deeply troubling to Ohio ACEP relate to how Medicaid patients are treated in the emergency department. Under original proposals, once a Medicaid patient had received medical screening and had been stabilized in accordance with EMTALA, emergency physicians would have to cease care and refer the patient to a primary care physician or urgent care. Emergency physicians would have risked lowered reimbursement rates if they treated Medicaid patients beyond what is expressly required by EMTALA.
In testimony before the Senate Finance Subcommittee on Health, Human Services, and Medicaid, Ohio ACEP President Dr. Brad Raetzke pointed out that these provisions are vague and could endanger the safety and quality of care for Medicaid patients who may need further care in the emergency department. He walked the committee through a hypothetical example of a Medicaid patient with lacerations after a car accident. While the emergency department would care for that patient up until they are stable, the patient could have more serious injuries that appear such as an infection. The quality of care and patient safety would suffer in cases like these because urgent care centers' services are limited compared with those of an emergency department. Additionally, the patient may not follow through on follow-up care, if they are even able to find a primary care physician that accepts Medicaid. This would have defeated the purpose of the proposed regulation because it would likely necessitate far more expensive care down the line. Further, Dr. Raetzke asserted, provisions like these would create a two-tiered system of emergency care: one for Medicaid patients and one for non-Medicaid patients.
Ohio ACEP is happy to report that the objectionable provisions were not included in the final version of the bill.
Telemedicine
Portions of HB 166 originally contained Ohio ACEP-supported provisions which would have prohibited health insurers from treating telemedicine differently than in-person healthcare services solely because they are provided as telemedicine services.
Ohio ACEP has long been supportive of expanding access to telemedicine services as a promising tool to help address the persistent problems of emergency department crowding, psychiatric boarding, and limited access to medical care. In submitted written testimony in April, Ohio ACEP laid out its support for the telemedicine parity provisions.
Unfortunately, the bill's telemedicine provisions were removed by the Ohio House of Representatives during budget deliberations. We are encouraged, however, that the final signed version of HB 166 does contain some language regarding telemedicine parity. Though the language that ultimately passed was not as positive as the original telemedicine provisions—which Ohio ACEP was proud to support as a standalone bill last year—it is a significant improvement over the version of the budget which did not address telemedicine at all.
---