Committees
Much of NCDA's work is conducted through its committees. These committees provide an opportunity for members to serve the association in a leadership position. Listed below the committee title is a brief description and the name of the committee chair. Use the chairperson's email address to express your interest in that committee's activities. All members are welcome to join committees at any time!

Want to join a Committee?
Read the descriptions below.
Review the Committee Report, posted here in the NCDA Annual Report 2013-14 or Review the Mid Year Reports (posted each March)
Click on the Chairperson's name to send an email expressing interest.
Maintain your membership in NCDA and be an active committee member!
Committees: Click below to view the
AWARDS

Chairperson: Michelle Beese

The Awards Committee is responsible for publicizing and soliciting nominations for and selecting recipients of the Merit Award, the Outstanding Career Practitioner Award and the Legislative Award. Any NCDA member may nominate a candidate for an award. The Awards Committee will also solicit and coordinate the nomination of NCDA members for ACA and other appropriate external awards.

For a detailed listing of NCDA Awards, click here.

BYLAWS

Chairperson: John Wilgeroth

The Bylaws Committee shall have responsibilities for drafting proposals for amendments to these Bylaws. The committee shall carry out such other functions as may be assigned to it in these Bylaws or by the Board. Membership to this committee occurs through NCDA Board appointment only.

CAREER CONVERGENCE WEB MAGAZINE

Chairperson: Melanie Reinersman

NCDA maintains a web magazine entitled Career Convergence. The Website Magazine Editor, in coordination with Associate and Field editors, manages this magazine. The magazine is posted monthly on the NCDA website and is available to the general public. All members are encouraged to apply for Associate and Field editor positions, as well as contribute articles. Submission Guidelines can be found in the online magazine.

CAREER DEVELOPMENT QUARTERLY

Editor: Paul J. Hartung

The Career Development Quarterly (CDQ) is the official journal of NCDA. The editor is responsible for editing and preparing four issues of the CDQ per year, preparing an annual report and budget statement for the NCDA Board, and for coordinating business functions of the CDQ with ACA officials including plans for expansion of subscriptions. The members on the Editorial Board of the CDQ are recommended by the editor and approved by the board. They serve three year terms, with one third of the members appointed each year. The Editorial Board is responsible for editorial policy and content of the CDQ.

CAREER DEVELOPMENTS MAGAZINE

Editor: Jenn Long

This NCDA members-only magazine is a themed publication offering articles that balance a broad vision with practical applications. Published four times per year, each issue offers a focused article on a select theme, a feature article on a prominent NCDA event, specific content for five departments, and four regular columns.

CAREER DEVELOPMENT FACILITATOR ADVISORY COUNCIL

Chairperson: Constance Pritchard


The Career Development Facilitator Advisory Council is responsible for oversight of the Career Development Facilitator training program. The council makes recommendations to the NCDA Board of Directors about all aspects of Career Development Facilitator including curriculum edits and updates, instructor registry and structure of training hierarchy (e.g., qualifications and requirements for master trainers, instructors, associated fees etc.), international concerns, training management, and ensuring the future growth of the program. The council represents members from the master trainers, instructors, GCDFs, and OWDS as well as a geographic representation. Council members rotate every three years with new members selected through an application process.

COMMITTEE ON DIVERSITY INITIATIVES AND CULTURAL INCLUSION

Chairpersons: Yamonte Cooper & Grace Williamson

The Committee on Diversity Initiatives and Cultural Inclusion was established to provide cross/multicultural competency-based standards, publications/ materials/tools and professional development or training for career development professionals servicing diverse client populations and organizations. The committee also sponsors multicultural/diversity programs and addresses cultural diversity issues within NCDA as well as the career development profession. The Committee created a Multicultural Career Resource LIst (which is accessible to Members only).

ETHICS

Chairperson: Carolyn Jones

The Ethics Committee is responsible for: (a) educating the membership as to the Association's Ethical Standards, Code of Ethics; (b) making suggestions to the NCDA Board for the modification or development of ethics related documents and procedures; (c) responding to questions about ethical standards and the ethical behavior of NCDA members; and (d) investigating (if called upon by the ACA Ethics Committee or the NCDA Board) complaints of alleged violations of the ethical standards of ACA and NCDA and referring complaints to ACA for adjudication, if necessary.

GLOBAL CONNECTIONS

(formerly the International Careers Committee; name changed Dec 2014)

Co-Chairs: Brian Hutchison and Vera Chapman


The Global Connections Committee was formed to unite counselors worldwide who have expressed interest and concern about international policies and practices in career development. The committee achieves this goal by playing an active role in hosting global participants at the NCDA Annual Conference, recognizing global leaders through the International Career Practitioner Award, collaborating with International Career Development Associations as partners in strategic initiatives, and representing issues of global career counseling practice worldwide through information dissemination and advocacy.



GOVERNMENT RELATIONS

Co- Chairs: Charles Lehman and Rebecca Dedmond

This Committee is responsible for: (a) sensitizing NCDA members to current and pending school and educational issues that warrant legislative action; (b) promoting, developing, and monitoring federal legislation relevant to career development services; (c) providing state division presidents with information necessary to act locally upon national legislation, appropriations, and related matters; and (d) extending the professional contacts of NCDA/ACA members to persons outside the profession who are equally concerned with legislation affecting career development services. Click here for Committee and Legislative Updates.

NATIONAL CAREER DEVELOPMENT MONTH

Chairperson: Lakeisha Mathews

This Committee coordinates a national brochure reflecting the importance of career development as a practical resource for professionals in promoting the concept of career development. Each year the committee recommends a theme for NCD Month as part of the nationwide observance of career development. The committee designs the contest, brochure, and assists with the publicity activities at professional association conferences.

NCDA-ACES COMMISSION FOR PREPARING COUNSELORS FOR THE 21ST CENTURY

Chairperson: Melinda Gibbons

The Commission has two major goals: improve counselor educator commitment to career development in counselor preparation and enhance the quality of career course content. The Commission continues to work with relevant divisions and sections of ACA to keep counselor preparation for career development/career counseling in their strategic plans and agendas.

PROFESSIONAL STANDARDS

Chair: Jamie Johnson

This committee supports NCDA's efforts to protect the various publics served by the career development profession through: (a) monitoring professional standards and areas in need of standards development; (b) communicating to the board and membership changes in standards and ethics of other organizations with interests common to NCDA such as the National Board for Certified Counselors (NBCC) and the Accreditation of Counseling and Related Educational Programs (CACREP); and (c) keep all NCDA guidelines and competencies current in collaboration with other committees whose charges overlap as needed (except for the Ethics which includes oversight within its committee).

PUBLICATIONS DEVELOPMENT

Chairperson: Don Schutt

The Council coordinates the development of a high quality publications program that meets member needs, advances the field of career development, and increases the number of publications generating income for NCDA activities.

RESEARCH

Chairperson: Kevin Stoltz

The Research Committee provides oversight to any research NCDA conducts, is asked to participate in, or awards grants to. Such oversight may include coordination of samples, surveys, etc.; screening research proposals for NCDA grants; suggesting research topics for NCDA members; and identifying career research needs.

TECHNOLOGY COMMITTEE

Chairperson: Melissa Venable

The NCDA Technology Committee provides recommendations to the Board on technology development, concerns and issues relevant to NCDA as an organization and its members. The objectives of the committee are:

To report to the NCDA organization and Board and provide feedback about technology with distinctions between efficient and effective use
To assist NCDA in identifying online platforms for members to participate in networking and professional development
To maintain a database of knowledge experts who conduct training and development on technology in career development
To develop systems to distribute guidelines and techniques on the use of technology in career development
To cross-collaborate with other NCDA committees on the integration of technology, as appropriate.

VETERANS COMMITTEE

Co-Chairs: Robert Miles and Charles Lehman

The Veterans Task Force was formed in mid-2011 to provide a forum for discussion of veterans' career and employment issues within NCDA. Initial goals of the task force are: 1) To establish a means for NCDA members interested in veterans' issues to communicate with each other; 2) To advise the association on projects related to veterans; 3) To encourage presentations on veterans' issues at the annual conference and other professional development opportunities; 4) To encourage research and publication of articles on career development issues related to veterans; and 5) To provide resources on veterans' issues for NCDA members (see the Bibliography Of Military Career Transition Research 2000 – Present ). The task force has instituted a LinkedIn discussion group.

Task Forces

Leadership Academy Alumni

Chair - Ron Cathey

Leadership Task Force Annual Report

Work Groups

NCDA International Student Work Group
Chair: Elif Balın
E-mail address: iswg@ncda.org
In this section

NCDA Long Term Plan
In April 2015, the NCDA Board announced an updated Long Term Plan.
Click here to read the seven areas the Board has decided to focus on and the steps being taken.
Career Developments Magazine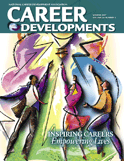 Career Developments is a themed publication offering articles that balance a broad vision with practical applications. All NCDA members receive this as a benefit of membership. Learn more about Career Developments.

ATTENTION STATE LEADERS:
Click here for the State Division Leaders' Handbook
Watch for email from NCDA to complete the new Leadership Directory!