NCDA Headquarters
305 N. Beech Circle
Broken Arrow, OK 74012
Phone: 918-663-7060
Toll-Free: 1-866-FOR-NCDA (1-866-367-6232)
Fax: 918-663-7058
Management Team
EXECUTIVE DIRECTOR

Membership & Publications Director

CDF & Conference Director

Communications Coordinator

Website Editor & Web Magazine Editor & Publications Development Director

NCDA STAFF

[l to r -- back row: Natalie Scrimsher, Alicia Cheek, Mary Ann Powell; front row: Melanie Reinersman, Deneen Pennington]
Additional Contact Info
MEMBERS: Please keep your contact information up-to-date! Contact NCDA with your change as soon as possible.

NCDA Long Term Plan
In April 2015, the NCDA Board announced an updated Long Term Plan.
Click here to read the seven areas the Board has decided to focus on and the steps being taken.
Career Developments Magazine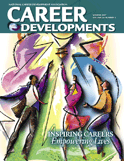 Career Developments is a themed publication offering articles that balance a broad vision with practical applications. All NCDA members receive this as a benefit of membership. Learn more about Career Developments.