Publications
Featured Product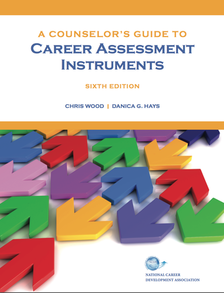 Announcing the April Career Resource Store Sale on The Counselor's Guide to Career Assessments (6th ed.). $40 off when you order April 1-30, 2017. No promocode needed. Shipping & Handling charges will be added to your order.
Order online now - visit the Career Resource Store.
Members, be sure to login to NCDA first (click on "Account" after you enter the Store) to see the discounted member price on all items. Read all about the new store and the debut of e-books in Career Convergence.
Save
Save
Monthly Specials
---
Read More!
Many of our products include links to Book Reviews or Excerpts, which are also archived in our Career Convergence web magazine.
Details

This product is no longer available.