Details


Larger Image
The Career Counseling Casebook
A Resource for Students, Practitioners, and Counselor Educators, 2nd Edition
Author/Editor: Spencer G Niles, Jane Goodman, Mark Pope
Year:
2013
In this book, the leading career development theorists and practitioners' present state-of-the-art career counseling strategies for helping clients resolve their career issues. Forty-one new cases cutting across all developmental stages and representing a wide range of client backgrounds and career concerns are presented. Two respondents provide strategies for providing career counseling with each of the cases presented. This is an excellent resource for anyone concerned about becoming a more competent career practitioner.
Read a book review online in Career Convergence.
ISBN: 978-1-885333-41-4
Keywords:
Categories:
Assessment
Career Development Theory and Models
Career Information Resources/Curriculum/Activities
Career Planning and Job Seeking Resources
Individual/Group Counseling and Facilitating Skills
Specific Populations

Work Settings:
Stock#: 912 Mfr#: 912
Featured Product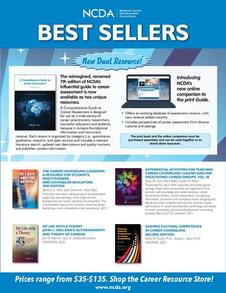 Shoppers in the Career Resource Store can get $5.00 off their purchase if they use the discount code BOOK2022. Available for a limited time only, the code can help you save money on books, ebooks and subscriptions, until August 14, 2022.
While browsing the Store, be sure to check out the new NCDA monograph on career coaching, as well as the best sellers on assessment, the Holland theory, and gaining cultural competence.
Shop the Career Resource Store now, or View/download the NCDA Resource Catalog PDF, then use the BOOK2022 code in your shopping cart!
On Sale in August:
A Case Study Approach to Ethics in Career Development, 2nd Edition.
Only $20 for the print or ebook (PDF).
Sale ends August 31, 2022. Shipping/handling not included.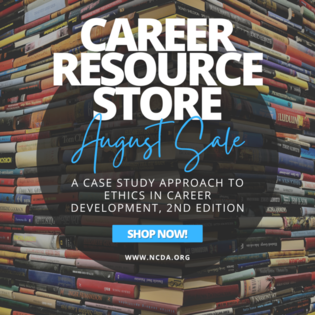 ---
John L. Holland's Autobiography and Theory of Careers
In 1959, John L. Holland introduced a theory of vocational choices involving personality typology (widely known in the career development field as the Holland Code, or RIASEC). Included with this previously unpublished autobiography are book chapters, journal articles and other original source material that will enhance the reader's understanding of both the theory and the scientist. (Rayman & Gottfredson, 2020)
On sale for $55.00 thru July 31, 2022 (shipping/handling not included).
Shop the NCDA Career Resource Store now!