Details


Larger Image
ONLINE ACCESS, Facilitating Career Development, Student Manual, Revised 4th Edition
An Instructional Program for Career Services Providers and Other Career Development Providers
Author/Editor: A. Lisa Jordan, Janet N. Marinaccio
Publisher:
NCDA
Year:
2020
Individual Orders ONLY. Order must be made by user to set up online access. If you need more than one copy, please contact [email protected] Allow 3 days for processing order. A link to the individual email address to secured site will be given by email/receipt for online access. Access is for 6 months from date of purchase. For assistance, please contact, [email protected].
The NCDA Facilitating Career Development (FCD) Training is a 120-hour instructional program designed for individuals who assist others with career development. The training has value for both front-line personnel and program administrators in various settings who provide career development services. Course content includes in-depth coverage of the following topics:
The revised 4th edition contains updated material in all sections of the curriculum.
Helping Skills
Career Theories
Career Assessments
Diversity
Job Search Techniques including the use of Social Media
Technology and Career Information
Ethics
Working with Groups
Program Planning and Implementation
Individuals that complete this training are eligible to apply for the Certified Career Service Provider (CCSP) through NCDA's Credential Commission.
Looking for the print version?

Keywords:
Category: Career Development Theory and Models
Category: Individual/Group Counseling and Facilitation Skills
Category: Assessment
Category: Career Information Resources/Curriculum/Activities
Category: Program Planning/Promotion/Management/Implementation
Category: Specific Populations
Category: Ethical/Legal Issues
Category: Technology
Category: Career Planning and Job Seeking Resources
Work Settings: K-12
Work Settings: Post Secondary
Work Settings: Non-Profit
Work Settings: Government
Work Settings: Business and Industry
Work Settings: Independent/Private Practice
Stock#: 20117E Mfr#: ISBN: 978-1-885333-62-9
Featured Product
A Primer for Instructors and Presenters, 2nd edition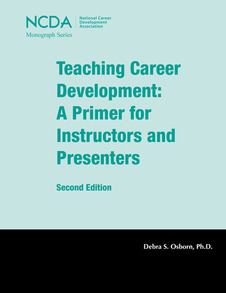 This second edition of this monograph not only provides strategies for delivering key components of career development in enthusiastic, innovative and more meaningful ways, it covers updated standards and new technologies.
An entire chapter offers 50+ active learning strategies useful for beginning and intermediate instructors of undergraduate and graduate career development courses and presenters of career development workshops. Another chapter focuses on teaching online.
The author has taught face-to-face and online university courses for over 20 years and has presented numerous national and international workshops on teaching career development. (Osborn, 2016)
Print or ebook (PDF) on sale October 1-31 for $20.00 in the NCDA Career Resource Store.
Shipping and handling not included.
---
7th Edition, is on sale September 1-30, 2022
The re-imagined 7th edition of our influential guide to career assessment was re-conceptualized and renamed to A Comprehensive Guide to Career Assessment. It contains important information career counselors, educators and practitioners will find invaluable in learning about career assessment and selecting assessments specific to client needs. The print version of the Guide offers six foundational chapters and over twenty instrument reviews. (Stoltz & Barclay, 2019).
Special sale price of $65, for the print book only. Shipping/handing not included. Shop the Career Resource Store now!
---
John L. Holland's Autobiography and Theory of Careers
In 1959, John L. Holland introduced a theory of vocational choices involving personality typology (widely known in the career development field as the Holland Code, or RIASEC). Included with this previously unpublished autobiography are book chapters, journal articles and other original source material that will enhance the reader's understanding of both the theory and the scientist. (Rayman & Gottfredson, 2020)
On sale for $55.00 thru July 31, 2022 (shipping/handling not included).
Shop the NCDA Career Resource Store now!