Details


Larger Image
Choosing A Vocation
Author/Editor: Frank Parsons
Year:
2005
The book is a complete reprint of the original book by Frank Parsons who played such an important early role in developing the field of career guidance. The introduction and post script is written by Carl McDaniels, NVGA President 1973-1974 and a preface by Janet Lenz, NCDA President, 2004-2005.
Read a review of this book in the NCDA web magazine Career Convergence.
Click here to see the Choosing a Vocation Table of Contents (PDF).
Click here to read the Introduction to Choosing a Vocation(PDF).
Keywords:
Categories:
Assessment
Career Development Theory and Models
Career Information Resources/Curriculum/Activities
Career Planning and Job Seeking Resources
Individual/Group Counseling and Facilitating Skills
Counselor Educators
Program Planning/Promotion/Management/Implementation
Work Settings:
K-12 and Parents
Post Secondary
Non-Profit
Stock#: 913 Mfr#: ISBN: 978-1-885333-14-8
Publications
Featured Product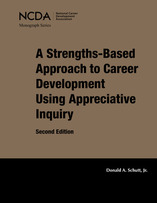 A Strengths-Based Approach to Career Development
Using Appreciative Inquiry, 2nd Edition
On Sale, February 1-29, 2020 for the discounted price of $20.00
(Print book only; shipping and handling charges not included in the sale price).
The Strengths-Based Approach is a way of seeing the world as positive and focuses on building upon strengths rather than on fixing deficits. This updated monograph details the approach and includes activities and a participant guide to move the Strengths-Based Approach to career development into practice. (Schutt, 2018)
Monthly Specials
---
Read More!
Many of our products include links to Book Reviews or Excerpts, which are also archived in our Career Convergence web magazine.