Complete Story

Sixteen Graduate from Ohio AgriBusiness Association's LAUNCH Program
Program Prepares Future Agribusiness Leaders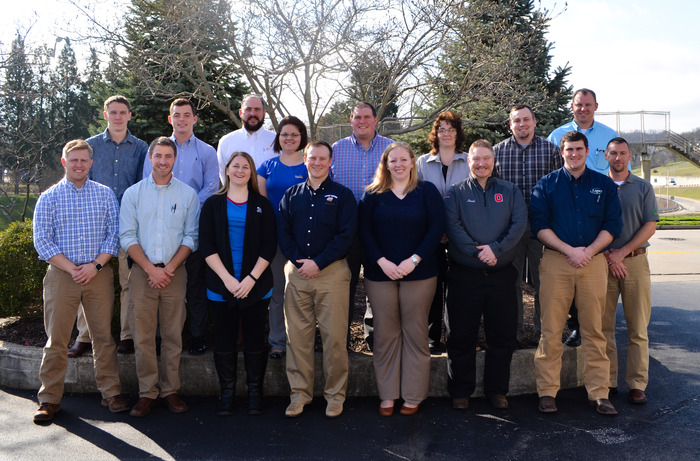 Sixteen Ohio agribusiness leaders are being recognized as the latest graduates of Ohio AgriBusiness Association's LAUNCH (Leaders Achieving Unexpected New Career Heights) program. Participants were selected by their companies to undergo the robust executive leadership development program, which was created in partnership with Wilt Public Relations to help OABA member companies fill the looming void of leadership talent as more than 50 percent of the agribusiness workforce is expected to retire in the next 10-12 years.
The 16 Ohio AgriBusiness Association member graduates who successfully completed the 2017 LAUNCH program include:
Adam Brossia - Branch Manager, Luckey Farmers, Inc.

Matthew Cook - Sales Representative, KOVA of Ohio

Cody Edwards - Dispatch/Fertilizer Coordinator, Central Ohio Farmers Co-op

Doug Eickholt - Agronomy Adviser, Mercer Landmark, Inc.

David Fierbaugh - Plant Manager, OHIGRO, Inc.

Tracy Lee Flore - Seed Manager, Mercer Landmark, Inc.

Shane Hyman - Inventory Control Manager, The Andersons, Inc.

Alex Johnson - Area Team Leader, Beck's Hybrids

Ryan Mangas - Assistant Operations Manager, Legacy Farmers Cooperative

Amanda Matheny - Account Representative, The Andersons, Inc.

Brandon McClure - Agronomy Sales, Morral Companies

Matt Spracklen - Grain Originator, Premier Grain, LLC

Amanda Stacy Hartman - Attorney, Barrett, Easterday, Cunningham & Eselgroth, LLP

Shane Vetter - Senior Account Officer, AgCredit

Nicole Wallace - Communication & Administrative Coordinator, Ohio AgriBusiness Association

Paxton Wood - Grain Merchandiser, Town & Country Cooperative, Inc.
LAUNCH prepares participants for successive leadership roles through a curriculum focused on developing individual skills and a global view of overall organizational needs. Capstone projects and in-person sessions both added to the depth of program.
Program topics included determining and flexing your style of work with others; leading with purpose; executive presence; decision making; human resources; presentation techniques; working with state government; salesmanship; agricultural industry challenges; corporate sustainability; work-life balance and more.
David Crone delivered the keynote presentation on "Leadership Lessons from the Corner Office and Center Stage." Other sessions included a trip to the Ohio Statehouse and Consolidated Grain and Barge facility in Cincinnati.
"The LAUNCH program continues to be an asset to tomorrow's leaders as it provides participants the opportunity to hone their leadership skills and make lifelong connections with peers in the industry," said Chris Henney, OABA president and CEO. "The participants of this year's class affirmed the continuous evolution of the broad needs of leaders in the agricultural field and showed great promise for the future of our industry."
PHOTO CUTLINE: Graduates of Ohio AgriBusiness Association's 2017 LAUNCH leadership program include (Front Row, from left to right) Matthew Cook, Alex Johnson, Nicole Wallace, Adam Brossia, Amanda Stacy Hartman, David Fierbaugh, Ryan Mangas, Brandon McClure (Back Row, from left to right) Paxton Wood, Shane Hyman, Shane Vetter, Amanda Matheny, Cody Edwards, Tracy Lee Flore, Matt Spracklen, Doug Eickholt.