Certified Crop Adviser Program
Knowledge. Experience. Dedication. That's the CCA Value.
Are you looking for a local agronomy or crop expert? Someone who has been certified as having knowledge and experience? Then you need a certified professional from one of the certification programs of the American Society of Agronomy.
The American Society of Agronomy has developed a tool to search for a CCA based on location and specialty.
To Become Certified
Applicants for certification must:
Have two years crop advising experience with a Bachelor of Science degree in agronomy, or four years post high school crop advising experience (must be documented with transcripts, detailed description of experience and supporting references or three years of experience with an associates degree in an agronomy-related field).
Pass both a local and international CCA exam, covering four major competency areas: nutrient management, soil and water management, pest management and crop management.
Sign a Code of Ethics.
Submit references from a grower and a colleague/employer.
Earn 40 hours of continuing education every two years.
Program Overview
Continuing Education Unit Requirements and Policies
40 CEUs every two years
A minimum of five CEUs in each of the four competency areas
A minimum of 20 CEUs must be board-approved
Ohio accepts approved CEUs from all states
If you are certified by the Ohio Department Agriculture as a "pesticide applicator," you may receive 10 CEUs in pest management for your two-year CEU cycle. To obtain these CEUs you must send a copy of your current Ohio Applicator License to:
American Society of Agronomy / CCA Program
5585 Guilford Road
Madison, WI 53711
Exam Information
The CCA Exam is now an internet-based exam, available within a one week window in the spring and fall each year via a remote proctor.
Exam Week: Wednesday, August 3 – Wednesday, August 10, 2022
Exam Details: The CCA Exam is offered exclusively online, completed at the examinee's computer and monitored by a proctor via the examinee's webcam, with additional security features to protect the integrity of the exam. The exam can be taken 24 hours a day within the designated exam week, including Saturday and Sunday. Examinees must schedule their exam time at least 24 hours before they plan to complete the exam (this is an additional step to registering for the exam).
Exam Prep: Ohio State University Extension will offer an online CCA Exam Preparation Course for the upcoming exam. The course is available May 16 through September 30, 2022, and will allow you to study and progress at your own pace. This course will provide an overview of the CCA program, and help you prepare for the test by covering basic principles in the four competency areas – nutrient management, soil and water management, pest management, and crop management. Even if you are not considering the CCA program, this class is a great basic agronomy course that any farmer, ag retailer, or anyone working with field crops will find valuable. Additional information on the prep courses and respective registration is available here.
Registration Period: Exam registration is available online starting April 4. The registration deadline for the August 2022 exam week is July 6. Any individuals who were signed up for the August 2021 or February 2022 exams, but did not take the exams will NOT automatically be rescheduled for the August 2022 exam week.
Scheduling Period: After registration closes and closer to the scheduling window, emails will be sent to all registrants with an exam specific link to schedule your specific and preferred test time. Registrants are encouraged to schedule their exam early in this window. The scheduling window will be Wednesday, July 27 – Monday, August 8.
The following information is included in the registration packet.
Registration Form
International Performance Objectives
Tri-State Performance Objectives
CCA Exam Cost:
International Exam - $260 (includes remote proctoring fee)
Tri-state Exam - $95 (includes remote proctoring fee)
Link to exam registration:
There are two exams, the International Exam with 150 multiple choices questions and the Tri-State Exam with 100 multiple choice questions. Both exams are timed - two and a half hours for the International Exam and two hours for the Tri-State Exam. The exams cover four performance objective areas:
Nutrient Management
Soil & Water Management
Pest Management
Crop Management
In addition, we now have four specialty exams that you can take which will be offered for OH CCAs:
4R Nutrient Management Specialty (4R NMS) Certification
Precision Agriculture Specialty (PASp) Certification
Resistance Management Specialty (RMS) Certification
Sustainability Specialty (SSp) Certification
Information on the specialty exams is linked from the exam page here: https://www.certifiedcropadviser.org/exams.
Click here to learn more about the CCA Exams from the American Society of Agronomy.
All CCA Exam questions can be directed to [email protected].
CCA Links
The Certified Crop Adviser (CCA) Program is an educational program with two main goals: to certify individuals who have passed a minimum competency examination and to establish a mechanism of continuing education for those already certified.
Technical service providers (TSPs) offer services to agricultural producers such as farmers, ranchers, and private forest landowners on behalf of the Natural Resources Conservation Service (NRCS). TSPs help these producers plan, design, and implement conservation practices or develop conservation activity plans to improve agricultural operations.
The American Society of Agronomy (ASA) is a progressive international scientific and professional society that empowers scientists, educators, and practitioners in developing, disseminating, and applying agronomic solutions to feed and sustain the world.
Ohio Certified Crop Adviser of the Year Award
The Ohio Certified Crop Adviser of the Year award was designed to recognize individuals who are highly motivated, deliver exceptional customer service for farmer clients in nutrient management, soil and water management, integrated pest management and crop production and have contributed substantially to the exchange of ideas and the transfer of agronomic knowledge within the agricultural industry in Ohio.
Congratulations Tina Lust - 2022 CCA of the Year!
Lust Seed Sales & Service - Marion, Ohio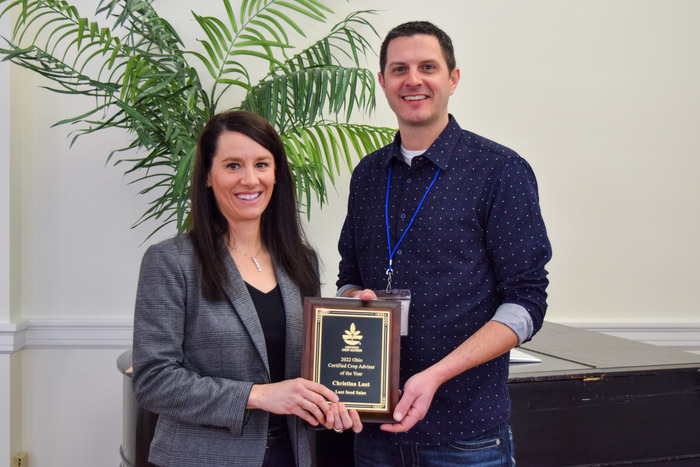 Click here to learn more about the 2022 Ohio CCA of the Year.
---
Past Award Recipients:
2021
Thomas Puch, Heritage Cooperative
2020
Wesley Haun, Tiger-Sul Products, LLC
2019
Don Boehm, Legacy Farmers Cooperative
2018
John Fritz, The Andersons, Inc.
2017
Timothy Berning, Precision Agri-Services, Inc.
2016
Matthew VanTillburg, VanTillburg Farms
2015
Chuck Gates, Seed Consultants Inc.
2014
Joe Nester, Nester Ag. LLC
2013
Melvin Lahmers, TMK Farm Service
2012
Mike Dailey, Independent Consultant
2009
Dave Moroschan, S & D Application, LLC
2008
Jeff Howard, Harvest Land Coop
2007
William Gombash, Berket Farm Center
2006
Roger Butts, Agro Serve Consulting
2005
Bill McDonald, Champaign Landmark
2004
Bill Lehmkuhl, Precision Agri-Services, Inc.
2003
David Scheiderer, Intergrated Ag Services
(also National AFBF Winner)
Ohio Certified Crop Adviser Board Members
Clint Nester

Chair
Term Expires 12/31/24
Nester Ag Management
Phone: 419-658-8866
Contact

Kevin Otte

Vice Chair
Term Expires 12/31/26
Otte AG, LLC
Phone: 937-564-1567
Contact

Logan Haake

Past Chair
Term Expires 12/31/22
Legacy Farmers Cooperative
PH: 419-423-2611
Contact

Larry Antosch

Appointed
Term Expires 12/31/22
Ohio Farm Bureau Federation, Inc.
Phone: 614-246-8264
Contact

Doug Billman

Director
Term Expires 12/31/23
Twinbill Agricultural Services
Phone: 330-465-5126
Contact

Sam Custer

Appointed
Term Expires 12/31/22
The Ohio State University - Agriculture and Natural Resources
Phone: 937-548-5215
Contact

Matt Deaton

Board Liaison
Term Expires 12/31/22
Deaton Soil Services, LLC
Phone: 937-533-9991
Contact

Jason Hartschuh

Director
Term Expires 12/31/24
OSU Extension, Crawford County, CED
Contact


Greg LaBarge

Ex-Officio
Term Expires 12/31/22
OSU Extension Agronomic Crops
Phone: 740-223-4043
Contact

Melvin Lahmers

Director
Term Expires 12/31/22
TMK Bakersville
Phone: 330-897-3911
Contact

Matt Lane

Appointed
Term Expires 12/31/22
ODA - Division of Soil and Water Conservation
Phone: 614-265-6913
Contact

Alex Lindsey, PhD

Appointed
Term Expires 12/31/22
The Ohio State University Extension
Phone: 614-292-3864
Contact

Greg McGlinch

Director
Term Expires 12/31/24
Down Home Farms
Phone: 937-417-6817
Contact

Robert W. Mullen, PhD

Ex-Officio
Term Expires 12/31/22
Heritage Cooperative
Phone: 330-601-0396
Contact

Mary Ann Rose

Ex-Officio
Term Expires 12/31/22
OSU Extension
Phone: 614-292-4070
Contact

Eric Schwab

Appointed
Term Expires 12/31/22
USDA/NRCS
Phone: 614-255-2477
Contact

Rendell Shira

Director
Term Expires 12/31/23
RS Crop Consulting LLC
Phone: 740-397-3118
Contact

William Urbanowicz

Director
Term Expires 12/31/22
Spectrum Analytic
Phone: 740-335-1562
Contact

Rick Wilson

Appointed
Term Expires 12/31/22
Ohio EPA - Division of Surface Water
Phone: 614-644-2032
Contact