Complete Story

CORRECTION: Ohio Ag Retailers Are at the Forefront of Voluntary Efforts to Improve Ohio Water Quality
OABA Members - It has come to our attention that the original version of this article (distributed in 5-7-18 News & Notes) used incorrect data figures. The corrected article is below. We apologize for any confusion.
Over the past six years, Ohio ag retailers in the Western Lake Erie Basin have substantially increased sales of products and services that keep soil and nutrients on farm fields. Based on published studies, the Partnership for Ag Resource Management (PARM) estimates Ohio ag retailers participating with PARM retained more than 1.5 million lbs. of total phosphorus on farm fields in 2017, and out of Ohio waterways. Sales of variable rate technology (VRT) alone reduced phosphorus losses by more than 600,000 lbs.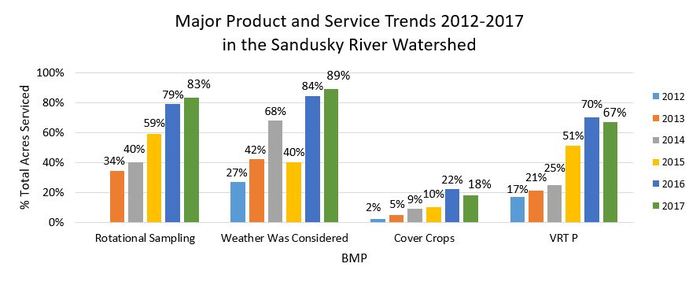 Rotational soil sampling refers to sampling soil at least every three years, as per Ohio State University recommendations. VRT involves intensive soil sampling within fields, and placement of phosphorus only where needed and at the optimum rate. When weather is considered, application of phosphorus is avoided before heavy rain events to avoid wash off.
Ohio ag retailers have outperformed those in other Great Lakes Basin (GLB) states (New York, Minnesota, Michigan, Wisconsin, Indiana, Illinois) and Ontario in many beneficial products and service categories.


Ohio ag retailers use technology to target phosphorus applications where nutrients will be taken up by crop plants including grid or zone soil sampling, with strong potential for continued growth in yield monitors, sensors and remote imaging.
Ohio ag retailers are also working to increase acres serviced with specialized approaches to retain nutrients on cropland by optimizing placement and application rates.

33 Ohio ag retail locations participate in the Partnership for Ag Resource Management, a collaboration focused on identifying, promoting and tracking sales of products and service that keep soil and valuable inputs on cropland, and out of waterways.
Funding for the collaboration has been provided by the Great Lakes Protection Fund, the Great Lakes Restoration Initiative, the National Fish and Wildlife Foundation and Ohio ag retailers. For more information, visit http://partnershipfarm.org, Facebook page @partnershipfarm.org and Twitter @Partnershipfarm, or email Caitlin Leahy, caitlin@partnershipfarm.org for more information.
Click here to download the revised Ag Retailer Voluntary Efforts Fact Sheet
Source: Partnership for Ag Resource Management
Corrected 5-9-18. A previous version of this article incorrectly indicated Ohio ag retailers retained more than 4.5 million lbs. of phosphorus on farm fields in 2016. and that sales of variable rate technology reduced phosphorus losses by more than one million lbs. The correct figures are above.
---