Complete Story

Eleven Graduate from Ohio AgriBusiness Association's LAUNCH Program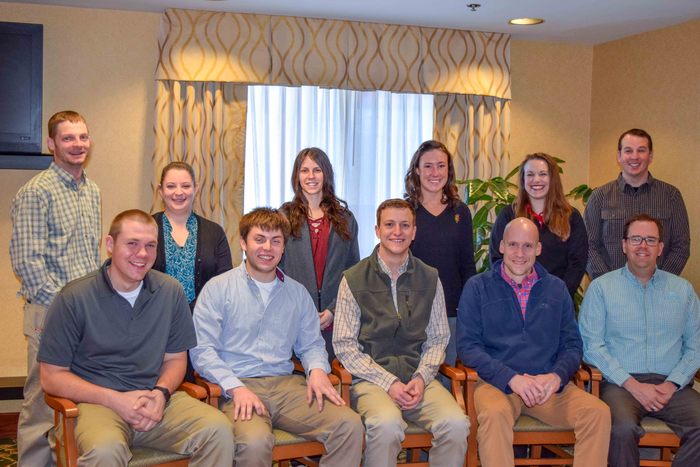 Eleven Ohio agribusiness leaders were recognized as the latest graduates of Ohio AgriBusiness Association's LAUNCH program. Participants were selected by their companies to undergo the robust executive leadership development program, which was created in partnership with Shift-ology Communication to help OABA member companies fill the looming void of leadership talent as more than 50 percent of the agribusiness workforce is expected to retire in the next 10-15 years.
The 11 member graduates who successfully completed the 2019 LAUNCH program include:
Alissa Armstrong, Seed Consultants
Derek Donovan, Mercer Landmark, Inc.
Samantha Funkhouser, Luckey Farmers Inc.
Curtis Grimm, Central Ohio Farmers Co-op, Inc.
Joshua Jennings, Global Impact STEM Academy
Eric Rife, Beck's Hybrids
Ben Seibert, United Producers, Inc.
Trent Ward, United Producers, Inc.
Christine Williams, Centerra Co-op
Elizabeth Wixtead, Ag Credit, ACA
Wyatt Zulch, Edon Farmers Co-op
LAUNCH prepares participants for successive leadership roles through a curriculum focused on developing individual skills and a global view of overall organizational needs. Capstone projects and in-person sessions both added to the depth of program.
Program topics included leading with purpose; determining and flexing your style of work with others; professional and executive presence; creating a positive culture; human resources; growing employee engagement; strategic planning; power of goodwill; working with state and federal government; decision making; courageous leadership; corporate sustainability; creating a safety-first culture, life-work balance and more.
Bernie Erven, Ph.D., delivered the opening keynote on "Getting to We." Erven, professor emeritus of agricultural economics and primary consultant for Erven HR Services, shared insights and tools on how employers excite employees to move from "your company" to "our company." Travel sessions included a trip to the Ohio Statehouse and a visit to Cargill's Sidney location.
"The LAUNCH program provides the next generation of agricultural leaders with the tools they need to take the next steps in their careers. Participants hone their leadership skills while also making lifelong connections with peers in the industry," said Chris Henney, OABA president and CEO. "This year's class shows there is great promise for the future of our industry."
PHOTO CUTLINE: Graduates of Ohio AgriBusiness Association's 2019 LAUNCH leadership program include, from left to right (Row 1) Derek Donovan, Wyatt Zulch, Trent Ward, Josh Jennings, Eric Rife (Row 2) Curtis Grimm, Christine Williams, Samantha Funkhouser, Alissa Armstrong, Elizabeth Wixtead, Ben Seibert.
---