Complete Story

Eighteen Graduate from Ohio AgriBusiness Association's LAUNCH Program
Program Prepares Future Agribusiness Leaders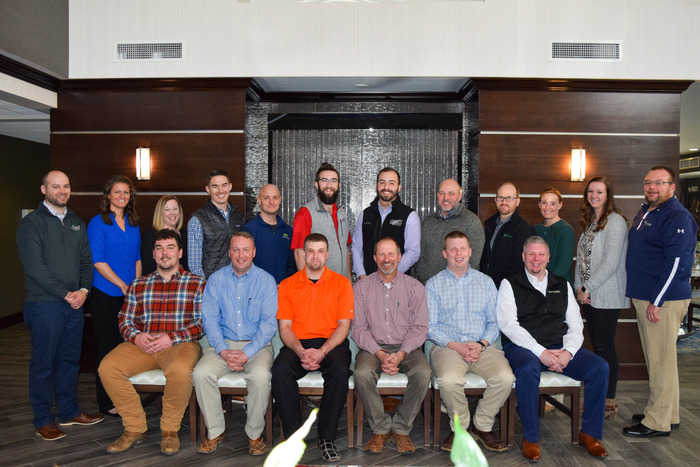 Eighteen Ohio agribusiness leaders were recognized as the latest graduates of Ohio AgriBusiness Association's LAUNCH program.
Hosted by the Ohio AgriBusiness Association, in partnership with Shift-ology Communication, the LAUNCH program is geared to help Ohio agribusinesses Elevate People, Elevate Ideas and Elevate the Industry. Participants were identified by their companies as emerging agribusiness leaders: individuals with a desire to meet higher level goals than the scope of their current positions, who seek to rise within their companies.
The 18 member graduates who successfully completed the 2020 LAUNCH program include:
Scott Benjamin, Nutrien
Emily Bennett, Shift-ology Communication
Sam Boyce, Mid-Wood Inc.
Eric Couch, Heritage Cooperative
Kendra Dauer, INTL FCStone
Derek Fauber, Heritage Cooperative
Keith Hinds, United Producers, Inc.
Martin Hofbauer, Luckey Farmers, Inc.
Elizabeth Long, Ag Resource Management
Benjamin Nething, Deerfield Ag Services
Chad Rosebrook, Legacy Farmers Cooperative
Chad Steffan, Mid-Wood Inc.
Mark Tangeman, Farm Credit Mid-America
Leland Tinklepaugh, Farm Credit Mid-America
Jamison Truebenbach, Global Impact Stem Academy
Ben Wheeler, United Producers, Inc.
Michael Williams, Co-Alliance, LLP
Ethan Witmer, Witmer's Feed and Grain, Inc.
LAUNCH prepares participants for successive leadership roles through a curriculum focused on developing individual skills and a global view of overall organizational needs. Capstone projects and in-person sessions both added to the depth of program.
Program topics included: personal insight, next-level leadership skills and decision making including strategic planning, critical thinking, change management, goal setting and organizational skills; communication and presentation skills; global issues in agriculture; sales and marketing principles; Ohio/regional trends in agribusiness; state and local government; identifying a mentor; and a personalized capstone project.
Dr. Bernie Erven delivered the keynote presentation on "Getting to We." Other sessions included a trip to the Ohio Statehouse meeting with legislators and Cargill's Sidney Ohio soybean crushing operation and oil refinery.
"The LAUNCH program provides the next generation of agricultural leaders with the tools they need to take the next steps in their careers. Participants hone their leadership skills while also making lifelong connections with peers in the industry," said Chris Henney, OABA president and CEO. "This year's class shows there is great promise for the future of our industry."
For additional information on OABA or the LAUNCH Program, contact Janice Welsheimer at 614-326-7520 or jwelsheimer@oaba.net.
PHOTO CUTLINE: Graduates of Ohio AgriBusiness Association's 2020 LAUNCH leadership program include, from left to right, top row: Chad Rosebrook, Kendra Dauer, Jamison Truebenbach, Scott Benjamin, Michael Williams, Benjamin Nething, Ethan Witmer, Derek Fauber, Eric Couch, Elizabeth Long, Emily Bennett, Mark Tangeman; bottom row: Martin Hofbauer, Ben Wheeler, Sam Boyce, Keith Hinds, Chad Steffan, Leland Tinklepaugh.
---