Complete Story

Tina Lust Named 2022 Ohio CCA of the Year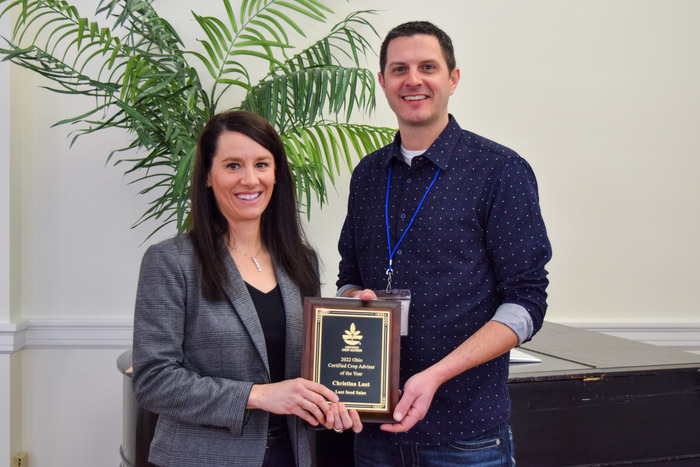 The Ohio Certified Crop Adviser (CCA) Program is honored to announce Tina Lust of Marion, Ohio as the 2022 CCA of the Year.
Lust is the owner of Lust Seed Sales & Service with more than 26 years crop advising experience. As a seed agronomist, Lust focuses on providing her customers with ethically, environmentally and economically sound recommendations that keep farmers in business. She previously served as a director and chairwoman of the Ohio CCA Board. During her years of service, Lust revamped the board's organization, rejuvenated lapsed committees, represented the Ohio CCA Board on the Lake Erie Commission to reduce phosphorous losses, and served on the International CCA Board.
"In my mind Tina is one of those well-rounded agronomists who get the job done for their customer," said Harold Watters, retired - OSU Extension, who nominated Lust for the award. "I talk with Tina's customers and they tell me how much they appreciate her advice. She isn't flashy or all that vocal about how she works but she digs in and really helps her customers."
"Tina represents the very best of Ohio CCAs," said Clint Nester, chairman of the Ohio CCA board. "Her dedication, not only to her own customers, but to farmers throughout the state through her previous work on the Ohio CCA Board, is a shining example all Certified Crop Advisers should strive to achieve. We are pleased to add her name to the list of CCAs of the Year."
Sponsored by the Ohio CCA Program, the state award recognizes an individual who is highly motivated, delivers exceptional customer service for farmer clients in nutrient management, soil and water management, integrated pest management, and crop production, and has contributed substantially to the exchange of ideas and the transfer of agronomic knowledge within the agricultural industry in Ohio.
Lust was recognized at the 2022 Conservation Tillage & Technology Conference in Ada, Ohio on March 8. She was presented a plaque and a $1500 cash award, courtesy of the Ohio Association of Independent Crop Consultants, Ohio Farm Bureau Federation and Nutrien.
Recent honorees include: Thomas Puch, Heritage Cooperative; Wesley Haun, Tiger-Sul Products, LLC; Don Boehm, Legacy Farmers Cooperative; John Fritz, The Andersons, Inc.; and Timothy Berning, Precision Agri Services, Inc. To view the full list of past award recipients, visit oaba.net/cca.
For more information about the Ohio CCA Program, visit oaba.net/cca.
---