Complete Story

OABA Goes to Washington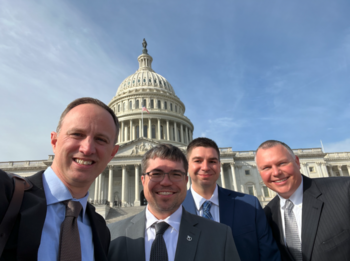 This past week Ohio AgriBusiness Association leaders participated in a congressional fly in with our national partner, the Agricultural Retailers Association. While in Washington DC, our delegation visited over half of our Members of Congress including both of our US Senate offices.
Discussions included topics such as the upcoming Farm Bill hearings, labor shortages and ongoing rail issues. We also thanked members for past support on topics including the reauthorization of the Pesticide Registration Improvement Act (PRIA) and Congress' help intervening last year with the impending railroad worker strike.
In addition to meeting with Ohio's congressional delegation, we also had the opportunity to meet with the Chairman of the US House Committee on Agriculture, US Representative Glenn "GT" Thompson of Pennsylvania.
Attending on behalf of OABA were Chris Henney, OABA President & CEO; Grant Gates, Morral Companies and Vice Chair of the OABA Board; Gary Weidenborner, CoBank and Chair of the OABA Public Policy Committee; and Blake Gates, Morral Companies and board member for the Agricultural Retailers Association.